CORE Organic is the acronym for "Coordination of European Transnational Research in Organic Food and Farming Systems". As an ERA-NET action, it intends to increase cooperation between national research activities. CORE Organic Plus is the continuation of the ERA-Nets CORE Organic I and CORE Organic II. Compared to the previous CORE Organic ERA-Nets the Plus ERA-Net will benefit from an additional top-up funding by the European Commission.
Read more...



List of funded CORE Organic Plus projects
CORE Organic has started its 3rd contract with the European Commission, and a transnational call on organic food and farming systems was launched in December 2013, with 9.7 million Euros for research from 22 funding bodies, and 3 million Euros from the EC. The project CORE Organic Plus will run for 5 years until the research projects initiated have been finalised and evaluated.

The four thematic research areas of the call are:
1. Crop: Plant/Soil interaction in organic crop production
2. Functional biodiversity to improve management of diseases, weeds and pests
3. Livestock health management system including breeding
4. Ensuring quality and safety of organic food along the processing chain

The funding from the EC will be divided into three and used for 1) distribution according to national funds in the call (approximately 11% extra for each country), 2) top-up funding to ensure that the highest ranked projects are funded by filling in short-comings, and 3) funding of the administration of the CORE Organic Plus project. The top-up funding of the EU aims at further contributing to a more ample selection of projects by filling in national financial short comings during project selection. The ranking of the full proposals will be performed by a scientific expert panel, and will be respected by the funding bodies. Within these research projects the participation of partners from private companies is welcome, and might be funded if the national rules allows for it.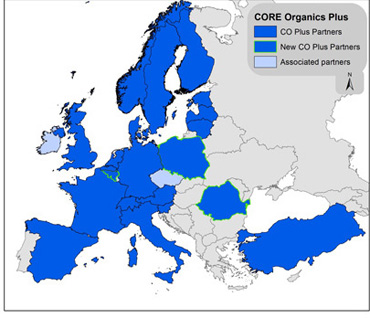 CORE Organic is coordinated by International Centre for Research in Organic Food Systems, ICROFS
Website: www.icrofs.org
E-mail: coreorganic@icrofs.org
Phone: +45 87157716 (Ulla Sonne Bertelsen)